Self-esteem
A fundamental value in shaping one's personality and a barrier against psychological distress, self-esteem plays an essential role in adolescent well-being.
Helping young people develop a positive body image, accept differences and reject stigma are all ways to reduce bullying and develop their self-confidence.
On this page, you will find practical information to help your young people develop their full potential through self-esteem and tips to help them develop a positive relationship with their bodies. To better guide you, all our content is organized by level: the higher the level, the more it represents an advanced level of practice.
Level 1: Lesson plan "Beauty: going beyond looks"
Lesson plan
A lesson plan to help your students develop a positive body image by developing a broader concept of beauty.
Download
Level 1: Special body image mini-guide for schools
Info sheet
Learn how to promote body diversity in your school with our comprehensive mini-guide!
Download
LEVEL 1: DEVELOPING HEALTHY SELF-ESTEEM
Info sheet
An info sheet with many tips to help your child develop high self-esteem.
Download
LEVEL 1: INFO SHEET: ACCEPTING YOUR BODY
Info sheet
An info sheet that offers several concrete tips to help young people accept their bodies.
Download
LEVEL 1: LESSON PLAN: UNDERSTANDING YOUR STRENGTHS
Lesson plan
A complete lesson plan to help your students become aware of their strengths and improve their self-esteem.
Download

LEVEL 1: STUDENT PAMPHLET: DEVELOPING A POSITIVE BODY IMAGE
Info sheet
Practical advice to share with your students to help them develop a positive body image.
Download
Video: Watch the personal accounts of several young people and the advice of a psychoeducator on how to help your child accept their body.
Video: Only available in French
OUR PODCASTS (1)
Fostering high self-esteem in teenagers
LEVEL 2 : The effect of social media on young people's mental health
Psychoeducator Stéphanie Deslauriers sheds light on social media's impact on teens' psychology, including the battle for "likes," cyberbullying and fake news. Hear her valuable advice on how to help teens control their use.
Listen to it on Google Podcast
Only available in French
External resources (3)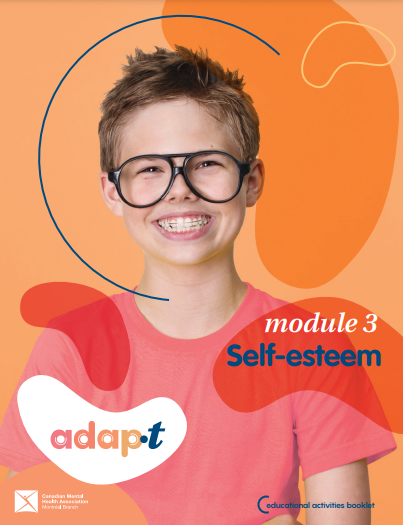 Self-esteem
Find tips and educational activities to help teens develop their self-esteem with the Canadian Mental Health Association's AdapT guide.
Learn more
Équilibre
Discover their free tools and workshops for physical education teachers: guided relaxation, action plans to foster positive body image and more!
Explore the tools
From dissatisfaction to body acceptance: developing a more positive relationship with your body
Everyone has their own body image, a perception that is accompanied by emotions and behaviours related to the body. Why do some people develop a negative view of their bodies? What role does the media play? Is it normal to dislike your body, and is it necessary to improve your satisfaction with your body image? Do cosmetic surgery, weighing yourself or dieting help maintain a healthy body image? These are some of the questions that this book addresses, bringing together research results, points for reflection and information on the subject, as well as concrete actions to help you reconnect with your body.
Only available in french
Buy the book ↗